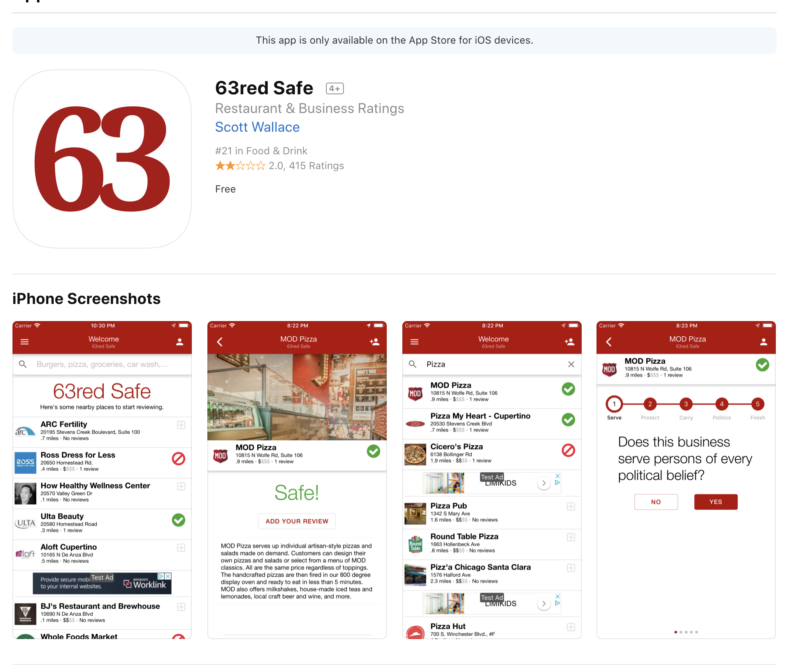 A new application from the "conservative news" site 63red, called 63Red Safe, is advertised as a sort of "Green Book" for the MAGA set. It lets users rate local businesses "from a conservative perspective," according to the app's Google Play listing, "helping insure[sic] you're safe when you shop and eat!" And in this case, "safe" means freedom to wear "Make America Great Again" clothing without having to bear verbal challenge.
The app rates the safety of a business based on user's input on four factors:
—Does this business serve persons of every political belief?

—Will this business protect its customers if they are attacked for political reasons?

—Does this business allow legal concealed carry under this state's laws?

—Does this business avoid politics in its ads and social media postings?
But the safe space for 63red founder Scott Wallace was violated quickly when French security researcher Elliot Alderson discovered some fundamental security flaws in Safe's architecture—making it not so safe.
Read 4 remaining paragraphs | Comments
------------------------------------------------------------------------------------ - Source: Read on Source Website...
Source Site: Biz & IT – Ars Technica
Link: https://arstechnica.com
Original-URL: https://arstechnica.com/?p=1472581